If the computer doesn't turn on, and if restarting the PC shows the same problem. If you have already exhausted all other troubleshooting options, We can help you by providing computer repair services. Computer Repairs Penrith is always ready to provide a computer repair service for your home or workplace immediately. Geeks2fix services extend across Penrith. Depending on the type of problem, it may take a day or a week to fix your computer.
Computer Repairs Penrith On-Site Within Same Day
No matter how big or small your problem is, the IT experts at Geeks2fix in Penrith have a solution for you. We will assist you by sending one of our helpful professionals to suggest a solution or provide remote assistance.
In Penrith, your Mac or Windows laptop or desktop pc will be set up, fixed, or maintained for support at your residence or place of business. We specialize in computer repair and maintenance in the Penrith region, so we apply wiser methods to limit your computer downtime.
You will also benefit from our expert technological experience, which we have continually enhanced since the company's inception.
What Kinds of Services Does Geeks2fix Offer in Penrith Computer Repairs?
Geeks2fix is here to help whether you need assistance installing software, combating a virus, configuring a printer, or dealing with many potential computer problems.
There is no such thing as an impossible assignment for our diligent geeks! However, we recognize that only some are comfortable with cutting-edge technology. Thus no difficulty cannot be solved. We aim to assist consumers in getting the most out of their technology.
Computer Related problems and solutions such as: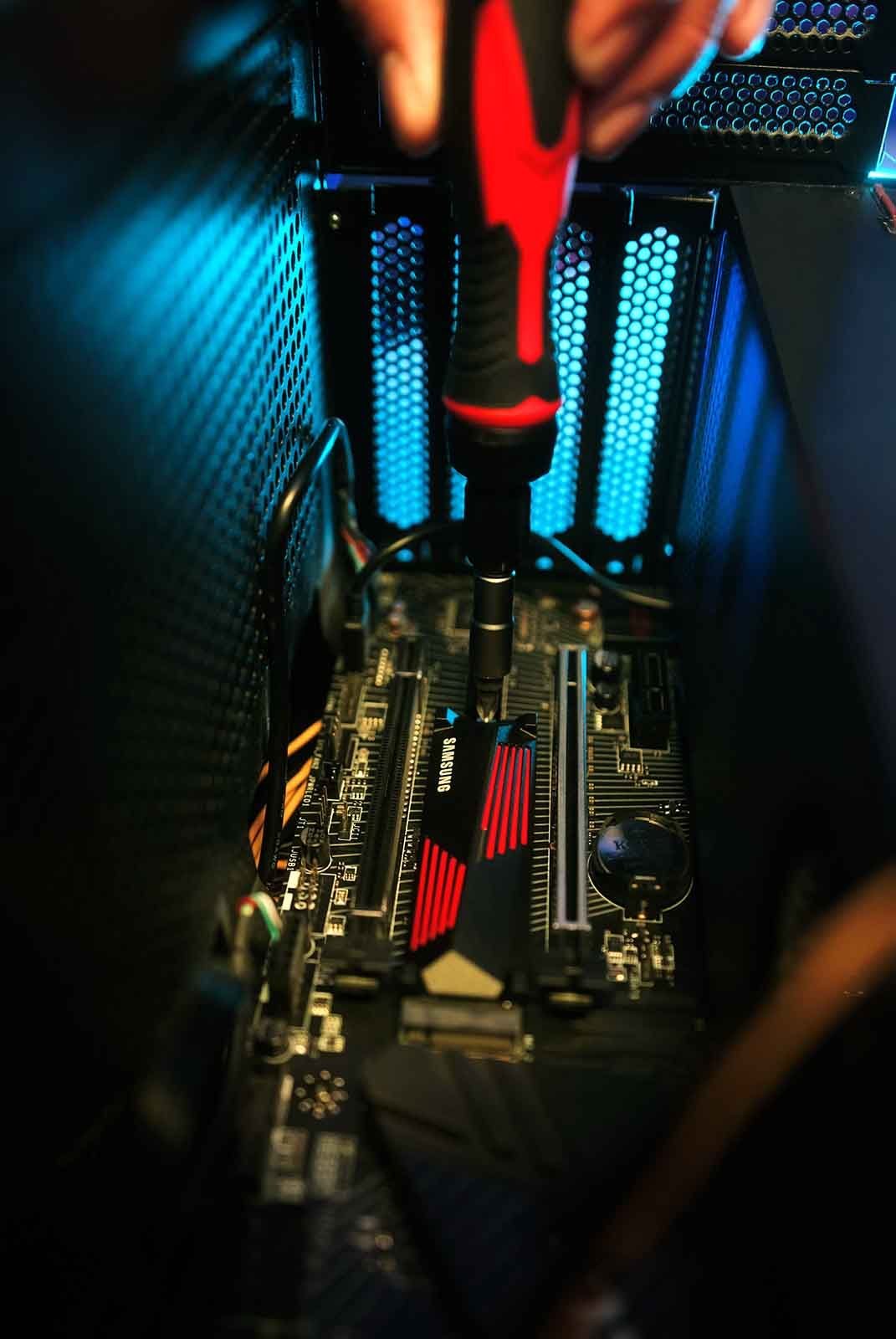 Improve the performance of your network and PC.

Spyware and virus removal.

Set up a network so that printers and data may be shared.

Create a backup of your critical data.

Data recovery from deleted or lost files.

Install new devices like Monitors and TVs.

Safeguard your network and PCs.

Computer and laptop repair.

Replace or repair broken or damaged equipment.
Please get in touch with us if you don't see your issue on this list. Since our inception, we have encountered a wide range of technical issues. As a result, we have always offered our assistance, advice, and experience.
We guarantee that we will solve your problem, whatever it is, or you will not be charged. It's really easy. If you have a device and require assistance in any manner, please get in touch with us or fill out the contact form to begin the process.
Geeks2fix – Is there computer repair support in Penrith?
Geeks2fix – A computer repair service provider located in Penrith.
If something goes wrong, we understand that you need a quick fix. Consequently, in emergencies, we offer same day computer repair services in Penrith.
Call us or fill out the booking form with your problem, and one of our computer geeks in Penrith will fix your computer or laptop immediately.
Our friendly computer repair experts enjoy their extensive knowledge of all major brands.
That is why we are convinced that one of our specialists will be able to restore your Apple, Lenovo, Samsung, Asus, HP, Dell, Toshiba, Acer, or any other brand computer to its original functioning condition.
Geeks2fix computer repair specialists will not only give a temporary solution to your technological difficulties. Still, they will also locate the cause of the problem and permanently resolve it. Nothing is more frustrating than feeling detached. As a result, we provide same-day service on weekends, weekdays, and evenings. In addition, computer professionals in Penrith may come to your home or workplace and fix your computer or laptop.
Why Should You Hire Geeks2fix's Onsite Computer Repairs Penrith?
We do same-day computer repairs Penrith area and do not charge for tests. We have a large stock of the most common components to guarantee that all repairs are completed promptly. Our repair booking system keeps track of your repair, and you may check its status at any moment on our website.
Our local computer professionals go above and beyond to deliver a service that goes beyond merely finding a solution to a problem:
Our personal touch has earned us the title of Australia's most trusted computer repair specialist.
The majority of IT issues are handled within 48 hours.
Seven days a week, technicians are accessible to provide on-site or remote service.
For individuals who want immediate assistance, same-day help is provided.
Our Geeks2fix Promise and Guarantee apply to all services.
Geeks2fix is confident that you will not find a better price for your computer repairs in Penrith NSW; we will match or beat any comparable offer from our local rivals.
We compare our rates to those of our rivals daily to ensure that we provide the greatest value. We can save a lot of money by ordering our spare parts in bulk and passing the savings on to you! Remember that we endeavor to supply our clients with high-quality replacement parts at the most competitive pricing.
We specialize in dealing with faulty equipment.
Geeks2fix has helped hundreds of Australians overcome their computer difficulties since its beginning.
We offer remote and on-site support to install, troubleshoot, protect, and manage your devices.
We understand that you need solutions promptly when something goes wrong with your electronics. Our straightforward method demonstrates our haste in locating the root of the problem and restoring device functionality:
Call our experts or schedule a callback.
Please describe your issue and obtain a quotation.
Schedule an appointment with a specialist at a time that is convenient for you.
Get remote or on-site assistance to address your problem!
This tried-and-true strategy is why we are Penrith's best computer repair company.
Pc Assistance and Laptop Solutions in Penrith
IT specialists are available to you wherever you are in Penrith and the surrounding area. In addition, we service Penrith and the nearby regions for any IT concerns. Please contact us by phone to explore your choices.
We will inspect your gadget for free and provide you with a set fee. If you decide to go forward, that's fantastic! Otherwise, no worries; you may heal at your leisure. All desktops, laptops, MAC and smart TV etc.
With years of computer repair knowledge, we're ready to bring your gadget back to life in no time. We have several years of expertise fixing PCs and MACs, which we put to good use. As a result, we're the only computer repair business you'll ever need, regardless of your problem or gadget.
Our service is strong to the top, with a robust guarantee, after-sales service, and professional assistance in clear exposure. We're here to help you address the problem with little effort and delay, whether you require free consultation or a comprehensive overhaul and refurbishment. We'll also give you fixed pricing, so there are no nasty surprises. So, whatever your device or problem, we can address it.
FAQs on Computer Repairs Penrith
Can you repair my pc remotely?
Each technological issue should be evaluated on its own merits. Sometimes an issue necessitates a visit from one of our local IT experts. Please contact us.
What is causing my PC to lag?
Your computer may run slowly for various reasons, including an old device, too many apps and programs open, or a problem with your internet connection. Call one of our specialists to find out why slow down your computer.
When is it time to replace your computer?
A computer has a typical lifespan of roughly five years. However, suppose your computer's cooling fans are really noisy. Preventing you from working. If you have trouble multitasking or the cost of an update considering the cost of replacement is relatively low, you should consider replacing it. Contact one of our experts to determine if a new computer is needed.
We will be in touch soon!
Our customer representatives are available 24 /7. If you have any queries leave a message with your contact details our operation team will call you soon.